Right i thought i'd post a guide to farming in the sulpherous wastelands area in Nightfall. This area is unlocked after you have gained the ability to control the Jujundu in the mission Gate of Desolation.
When you have completed this mission you will arrive at The Remains of Shahlahja. At this point you can take on the primary quest and leave the farming until you have obtained hard mode or you can farm for sunspear and lightbringer points at this moment.
From this point on lightbringer points are crucial to your defence against Abaddons minions. Especially when you reach the realm of torment. If you do deciede to farm for items in normal mode you should realise that the chances of gold weapon and armour drops are alot lower than if you farm in hardmode (plus money drops are lower too).
Jujundu Farming is relatively easy with a group of 5-6. Death penatlies are null and void for the jujundu as their hp and energy remain the same. Each hero/henchie also has access to a revive skill that revives for 100% health. This walkthrough only catalogs the desert area and not the mainland areas (which are full to the brim of Abaddons flunkies and can be a daunting task to most)
SS/LB farming:
Often you will see people looking for groups to farm for sunspear and lightbringer points, but often ask about 2 key quests that you need for this way of farming. TBH i never join these groups or have these quests available. I find it easier just to farm for points using the ghostly priests bounty. Theres an abundance of monsters (undead, elementals, Minions of Abaddon, etc) that can be found on the sulpherous sands. More often than not they will also be in large mobs of 7-12 monsters.
When you exit out of The Remains of Shahlahja, there is a res point and a ghostly priest just before you reach the sands. Take the undead bounty (sunspear) from him. Then head to the nearby Worm spore and mount your Jujundu. In the immediate area there is two groups of 10 undead, and slightly East of the spore are 2 elementals. Take care of the undead mobs before heading West.
Keep heading west and killing any undead mobs that you encounter untill you reach an area that is just plain sand (slightly north).In this area there is one group of Abaddon's minions and also a res point. At this res point the ghostly priest will give you the bounty to Abaddons Minions (lightbringer). Now return the way that you came and keep heading east. Past where you mounted the Jujundu.
In this area there are 3 groups of 3 Djinn, and one of which will contain a boss (prey for a decent gold drop in normal mode, on hard mode you still need to pray...but not as hard), there is also 2 groups of Abaddons minions. Try to run past the groups to the res point and again talk to the ghostly priest. He will give the bounty on elementals (lightbringer). Now you can dispatch of the minions and Djinn and gain the points for doing so (YAY).
You now have the 3 main bounties that will aid you in sky rocketing in the sunspear and lightbringer title tracks. All that is left is to continue around the map in a clockwise fation. In the furthest south west of the map is a small area that is populated by monoliths. Killing these things can give you huge amounts of EXP. On closer inspection of the area there is a treasure chest with no lock ( :O ) that will contain a GOLD weapon

(Treaure hunter hint) Take a lockpick with you, there is enough chests in this area to gain about 5-6 items (purple or gold), but the chance for this depends on the map item generator.
First Officer





Number of posts

: 37


Age

: 32


Location

: Leeds, England


Humor

: Sarcastic


Registration date :

2008-02-04

Character Data
Name: Valtiel
Race: Demon


There is one more thing worth noting: if you want a dire pet, this is what you want to do. Since pets recieve xp even when they're dead, sulfur deaths don't count as HP loss, you get lots of xp, and pet skills don't consume space when you're in a wurm, this is a quick and painless way to get yourself or your hero a high lvl pet.

An excellent guide, btw.
Please make me post more





Number of posts

: 8


Age

: 29


Location

: Finland


Registration date :

2008-02-22

Character Data
Name: Prism Petal
Race: Canthan


Thanks....and thanks for the add to the post.

I would also like to add that this is a great area to lvl up low level heros. Such as those that you can unlock once you have completed nightfall.
First Officer





Number of posts

: 37


Age

: 32


Location

: Leeds, England


Humor

: Sarcastic


Registration date :

2008-02-04

Character Data
Name: Valtiel
Race: Demon


Interesting that you don't use the quests for the SS/LB farming.
Here's what i do... starting from the same place: use the quests (Requim for a brain and Show of Force) which will need to be done seperately (wiki pages for how to get the quests r here: http://wiki.guildwars.com/wiki/A_Show_of_Force
http://wiki.guildwars.com/wiki/Requiem_for_a_Brain
Never ever complete these until you are rank 10 SS and rank 8 LB!
then take 4 heroes/henchmen, really doesnt matter which ones as you're using Junundu moves...
then put it on HM, and leave remains of sahlahjah.
This is basically the run most people do with a few extras... (http://wiki.guildwars.com/wiki/Guide_to_farming_Lightbringer_promotion_points
Just look at the sulfurous wastes bit)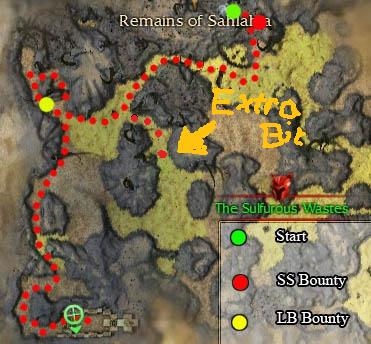 if you follow my orange path theres an extra group of undead for more SS points.
Also at the area fill of monoliths i recommend that you don't only open the closest right shrine, but open all of the shrines on the right as you get a few extra margonites.
I dont know how this compares with the run you detailed but this is pretty quick and gives some good drops (ELite Rit Tome yesterday).
it does give a fair bit more LB points than SS but i expect most people have more SS points to begin with.
Anyway wat ya think?
Please make me post more





Number of posts

: 1


Registration date :

2008-08-22



Similar topics
---
Permissions in this forum:
You
cannot
reply to topics in this forum